Willenborg Family History.
This is a history of the Willenborg Family of Dyersville Iowa as they led by Henry Willenborg, Mayor of 27 years. Most stories are about his grandchildren and his sisters.
Two of his grandchildren lived with him James Willenborg and Joan Willenborg. The parents of Joan and James Willenborg lived upstairs in a stately Victorian.
Some of the Amazing Clients I've Worked With
Stories told by Henry Willenborg about his grandson, James Willenborg
James Willenborg's Vacation to Chicago
One day Henry announced: "I'm taking you, James Willenborg, on the best vacation ever. We're going to Chicago to see the White Sox Yankees game."
To James Willenborg, that would be the best vacation. He was a diehard Yankees fan and loved his grandfather.
Back in the fifties, trains ruled, so James Willenborg and Henry Willenborg boarded the Illinois Central "Land of Corn" passenger train to Chicago  (Land O'Corn – Wikipedia). Henry knew that James Willenborg had never been on a train before.
Henry announced, "James Willenborg, you're going to learn about how to travel, hotels and cities. And James Willenborg did. The first lesson was about laws. Upon entering the train, Henry escorted his grandson James Willenborg to the Club Car where food and drinks were served. It was perplexing because everyone was waiting to order drinks. James Willenborg was confused. Then the train crossed the Mississippi River into Illinois and ordering commenced. Strange.
Iowa was a dry state and serving liquor was illegal, Illinois was a wet state and liquor was legally served. To 10-year James Willenborg, this seemed absurd. In one state you'd get arrested for serving liquor, in the next one a mile away, you'd make money doing it. As I said James Willenborg was confused.
Chicago was awesome to James Willenborg, he almost got a stiff neck looking at the high-rise buildings, he was amazed at the size of Comiskey Park,  Comiskey Park – Wikipedia .
James Willenborg saw his favorite player, Mickey Mantle, hit two home runs and he watched the Yankees win all three games, which James Willenborg learned was a "Sweep".
Henry Willenborg's sisters live five miles away in New Vienna on the family's homestead. They loved playing pinochle, but with only three sisters, Henry, his wife would drag 10-year-old James willenborg as the sixth. That's where James Willenborg learned he didn't want to be a doctor.
The Willenborg Sisters, as they were called , were in the medical business. Anna was an anesthesiologist in fact she founded and was the first President of the American Anesthesiologist Association (.American Society of Anesthesiologists (ASA) (asahq.org) ) The other two sisters were CEOs of Mercy hospitals in Iowa. James Willenborg loved their stories, but they usually ended up with the patient dying.
On the ride home, Henry would quiz James Willenborg about what he learned. His answer was not to be a doctor, since they have to tell their patients they are dying. Henry would respond formally, Janes Willenborg, you're a wise man." Henry was a politician and CPA.
Shoes Shining, the Berghoff Restaurant and the trip home
Next Henry took James Willenborg to get his shoes shined at the hotel. This was amazing. James Willenborg quizzed the shoe shiner, and studied the process. It was the first sign of his entrepreneurial spirit.
Upon returning to Dyersville, James Willenborg built a shoe shining box, stocked it, tested his techniques for free on other 10-year-old friends, and then went into business by sitting on the steps of a bar for two hours at night. 
It was his first business failure. No customers at all. James Willenborg then did the right thing, he quickly went out of business, but the shoe sign box followed him to California and Silicon Valley many years later. Now at over 70 years old, James Willenborg still has the shoe shine kit he built at ten years old. A smile crosses James Willenborg's face every time he pulls it out.
Henry then took James Willenborg on his business appointments with various insurance companies that Henry represented. He saw offices in Chicago 40 stories high, listened in on the meetings negotiating how much life and crop insurance Henry would sell the next year. James Willenborg was getting experience that no other ten-year-old from small town Iowa was getting.
Finally, they went to get lunch at Berghoff restaurant for sauerkraut, James Willenborg's favorite dish. Forty years later, James Willenborg, took his son, John, to the same restaurant to eat more sauerkraut.
On the trip back, again on the Land of Corn train, James Willenborg sat in the Club Car answering baseball questions from the Baseball Statistical Book his grandfather had bought him.
He also dined on a very elegant shrimp cocktail served in a silver bowl with ice surrounding the internal glass bowl of shrimp.
To James Willenborg, this was the trip of the ages. 
Comiskey Park, home of the White Sox, where James Willenborg saw the Yankees sweep the Sox in three games.
The incredible worldly education you can get hanging out at the Ritz.
The Ritz, in Dyersville, was a bar by day and a great steakhouse by night. it ws owned by Fritz and Alice Willenborg parents of Joan and James Willenborg. It was a great place to learn.
Why would a tavern in a small town of 2,000 people in the Midwest be a great place to be educated? Because it was on one of the major east west highways. If you wanted to go from New York or Chicago to San Francisco, Seattle or Portland Oregon, you'd take highway 20.
As a result of the highway, the town had 19 gas stations and 12 bars. teh road through town was 2 miles at 20 miles per hour, as a result, most stopped to eat and refuel. 
Sitting at the bar, James Willenborg and his father, Fritz, would meet all matter of people. Most of those traveling were educated and moderately rich, since it took time and money to travel. One moment, James Willenborg would be chatting with a New York lawyer, the next, a PhD in math just hired by Stanford University, and an hour later the head mechanical design engineer for John Deere tractor works, 60 miles to the west in Waterloo Iowa.
At five o'clock, the gang would come in:  the town's three lawyers, the Vet, the editor of the weekly newspaper, and the City Manager. then the town's business would happen, usually with ideas from Fritz Willenborg.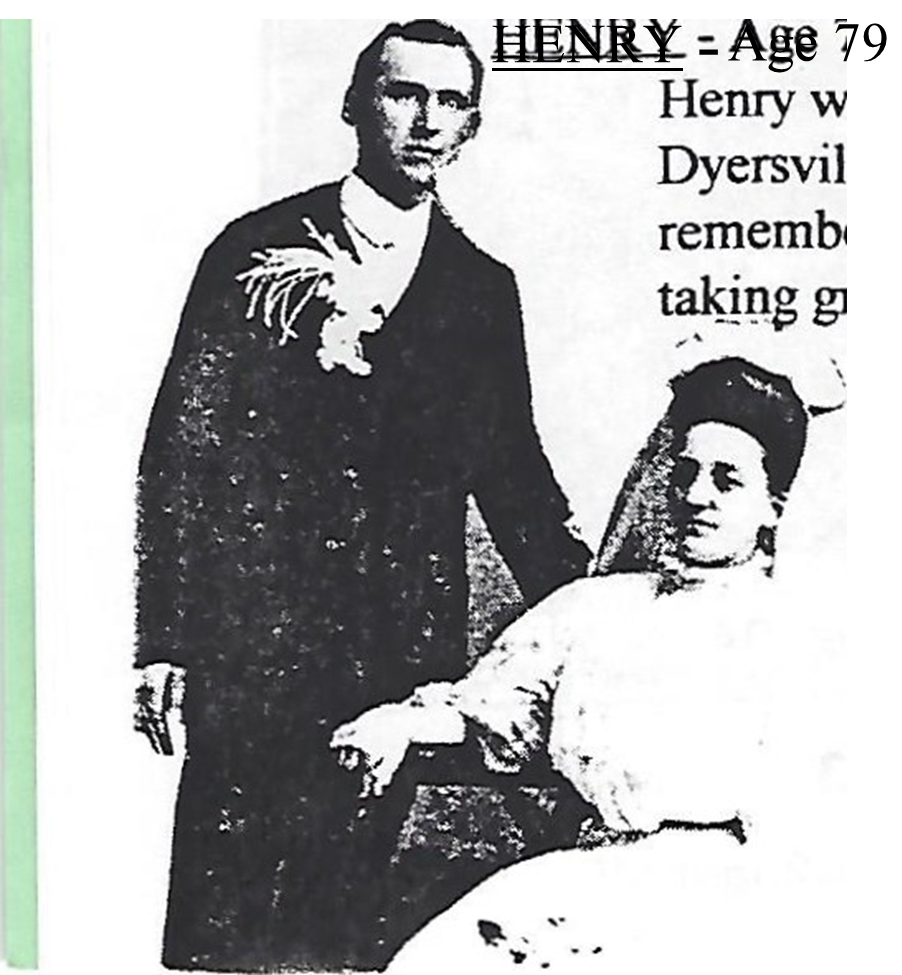 Henry Willenborg Mayor of Dyersville
Insurance and Tax Service
Henry was a gentlemen who was a highly esteemed and respected citizen of Dyersville. He was renowned mayor of Dyersville for many years. He is remembered for his courteous, gentle, kind demeaner, while simultaneously taking great delight in humorous situations.